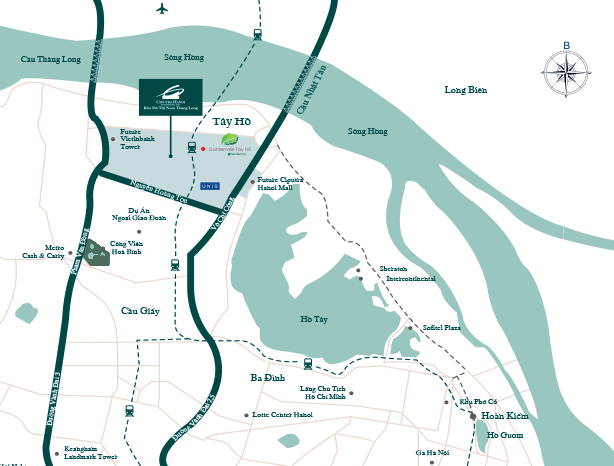 Ciputra Hanoi is located among Tay Ho District and Tu Liem District with a scale of 301 ha of area. Ciputra Hanoi has more than 7,000 residents, of which 30.8% are foreigners from 74 countries around the world. The number of residents is expected to be 50,000 when the project to be completed.
Ciputra Hanoi has been developed by 3 steps of the period as below;
Stage 1: With 2 buildings area G2 and G3 located near Unis School and Block G Villa
State 1 has also many villas for rent in Block G, C, and D
Stage 2: Has a scale of 148 ha in area, composes of 3 buildings as E1, E4, and E5 nearby Hanoi Academy School and Singapore International School. Besides this state, Ciputra Group invested a range of modern style villa at Block T1, 2, 3… 9.
Stage 3: Has a scale of 133 ha in area, composes of two modern buildings as P1 a P2. At this period Ciputra Hanoi offered modern and largest villa in Block Q with 400 sq.m in large.
Stage 4: This is the newest period in Ciputra with 5 buildings are named The Link 1, 2, 3, 4, 5 and Block K Villas nearby Ciputra Club and Ciputra Golf Course
With 4 stages of development and 6 main entrance gate; 1st gate at Vo Chi Cong Street, 2nd and 3rd gate on Nguyen Hoang Ton Street, 4th gate on Pham Van Dong Street, last one on Phu Thuong street make Ciputra Residents and Visitors more easy access. Here is the map of all buildings, international Schools, Villas and Facilities in Ciputra Hanoi.