CIPUTRA HANOI – MAGNETS ATTRACT FOREIGN GUESTS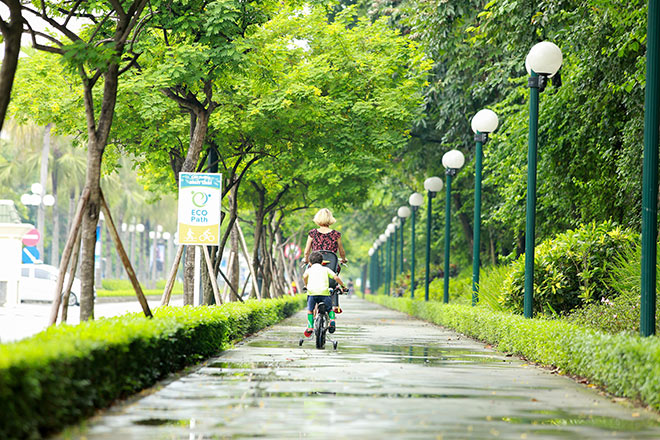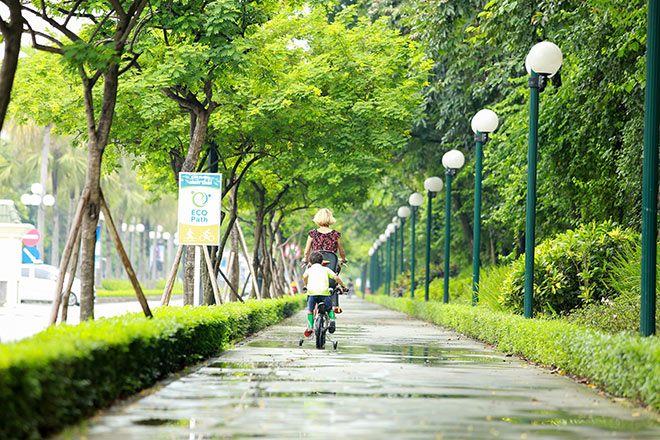 Ciputra Hanoi is known as "Foreign Street" of Hanoi when it concentrates the number of foreigners up to nearly 40% in a total of more than 7,000 residents from 89 countries worldwide. What makes Ciputra Hanoi's special attraction to the foreign market?

According to information from the investor, after the amended Housing Law that allows foreigners to buy houses in Vietnam officially takes effect on July 1, 2015, the number of foreign tourists coming to learn about the real estate products at Ciputra Hanoi real estate trading floor increased significantly. Especially, many foreign residents after a long time living at Ciputra have changed from being tenants to owners of apartments.
According to the opinion of the foreign community at Ciputra Hanoi as well as customers who are researching on the project, the strengths of location, planning, living environment, utilities, investor reputation as well as procedures Quick purchase and sale are the factors that make customers choose the project.
Ideal location next to West Lake
Ciputra Hanoi is currently the only international standard urban area located next to West Lake, adjacent to the Red River in Tay Ho District – an area with more than 1,000 hectares of trees and water surface with many valuable cultural relics on The spirit is considered a spiritual land of prosperity for the development of life and people according to the concept of feng shui.
With the advantage of being close to the arterial roads of Pham Van Dong (12 lanes) and Vo Chi Cong (10 lanes), from the project, Ciputra Hanoi residents only take 3 minutes to West Lake, 15 minutes to go to City Center Old Hanoi and 17 minutes to Noi Bai International Airport. In addition, Ciputra also has the advantage of being "close to the wall" Lotte complex with an investment of up to 600 million USD including commercial center, cinema, hotel, office and aquarium is being built. The construction, expected to be completed in 2021, promises to create a strong push for the regional real estate market.
High-class service facilities
Ciputra Hanoi is also a pioneer urban area developed under the "all in one" model (now all in one), which has become a model of development of other investors.
"Ciputra Hanoi makes me feel like I'm living in a European neighborhood where everything is very close to my previous rhythm of life back home. Except for commuting time, all utilities and services are available in the urban area "- Mr. Andrew (Ciputra resident – British national) said.
At Ciputra Hanoi, all utilities ensure a comfortable life: a sports and entertainment center, a clubhouse, a restaurant, a bank, a supermarket … just a few steps away. The best international education system, including United Nations International School (UNIS), Hanoi Academy, Singapore International School and Sunshine House Kindergarten and KIK, is an attractive place for water experts, counselors and entrepreneurs. In addition to living with family, ensure children a learning environment, practice international standards.
If the synchronized utilities bring a comfortable life for residents, the management board of residents with the reception, security, engineering, landscape care, etc. are always dedicated to ensuring each request. The smallest of the residents are listened to and resolved, ensuring the most convenient life for residents, especially with foreigners at first still unfamiliar with life in Vietnam.
Green living space close to nature
Located on the windy West Lake, possessing a large ecological space with 77ha of green trees and water surface, 7km ecological walkway, and secluded noisy traffic network, the urban area is like a green oasis. , bring a sense of freshness and tranquility. Not having to go far, many residents of Ciputra Hanoi find a complete resort space right where they live.
"I chose Ciputra because this is a rare urban area in the inner city of the city that meets the green space and carefully invested in the landscape. There are also a few other options for green urban areas that do not meet the location requirements. In two weeks, there will be my friends from Korea to learn about real estate project investment in Hanoi, I believe they will be impressed by Ciputra Hanoi's the link apartment products, "said Kim Jin Kee, Quoc. President of Korea – the owner of the 12th-floor apartment of the shared buildingLINK5.
Prestige investor
Invested and developed by Ciputra Group from Indonesia – The world's leading real estate development group has successfully created more than 100 projects ranging from hundreds to 6000 hectares, Ciputra Hanoi inherits and converges the quintessentially selects the most advanced construction and planning knowledge in the world as well as practical experience, so Ciputra Hanoi always "catches the eye" of customers from all countries, giving Up to now, it is the urban area with the largest number of foreign residents in Hanoi with 89 different nationalities.
Quick legal procedure
Clear and transparent legal procedures and quick purchasing procedures are also one of the attractions for foreign visitors to Ciputra Hanoi's products.
"Understanding the psychology of foreigners always" afraid "with the administrative procedures of Vietnam, so we always support customers in all stages of registration, registration … after thorough explanation for Customers all the steps. We believe that with the reputation of the investor, transparent legal procedures and simplified procedures will help customers feel secure when choosing Ciputra Hanoi ", the Investor's representative said.